Weddings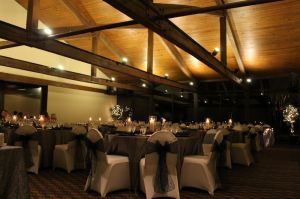 Not only do we offer great packages & options for corporate events by day but at night the building lights up to become a brides dream come true.
Lakeland specializes in making the planning process easy allowing you more time to celebrate with family & friends.
We offer in-house catering which guarantees that the food is fresh and prepared by an exceptional staff. We will customize a menu that fits your event specifically. Pink Flamingo offers menu items from elegant Hors d'oeuvres to southern style buffets and everything in between, including outside catering at your home, other private venue, or office party.
By booking your event at Lakeland you get tables, chairs and linens along with access to all the amenities, which includes a separate bridal suite. Inside the bridal suite you will find floor to ceiling mirrors, relaxing seating, tables, chairs, & refreshments. It's the perfect space to spend the last few hours with your bridal party.
Prior to the day of your Wedding you can make arrangements to have the groom bring his party out to come play golf, plan your rehearsal, host a bridal shower, and more. When you book with Lakeland, it is our goal to assist you in designing a truly personal experience.
To set up an appointment to tour our facility or book a date, please contact Teresa Webb at  (901) 382-1886 or email at theresa@stonebridgegolf.com.